DETECCIÓN DE CHLAMYDIA TRACHOMATIS POR PCR EN TIEMPO REAL, EN RECIÉN NACIDOS EN EL HOSPITAL ISIDRO AYORA, QUITO-ECUADOR.
Resumen
Introducción: La transmisión vertical de Chlamydia trachomatis se presenta del 60% -70% en los hijos de madres infectadas y el riesgo de adquirir conjuntivitis por Chlamydia trachomatis en estos neonatos varía entre el 18% al 70%. Objetivo: detectar la Chlamydia trachomatis por medio de qPCR (Reacción en Cadena de la Polimerasa por Tiempo Real) en los sacos conjuntivales en recién nacidos por parto normal. Métodos: Se realizó un estudio no experimental, transversal, analizando muestras procedentes de 178 niños nacidos vivos, en el Hospital Gíneco-obstétrico Isidro Ayora, se determinó la presencia de Chlamydia trachomatis en muestras de saco conjuntival, por medio de la reacción en cadena de la polimerasa los laboratorios de Biología Molecular de la Pontificia Universidad Católica del Ecuador. Resultados: la edad gestacional de los neonatos más frecuente es a término 75.29% que corresponde a 124 pacientes, resultados positivos para Chlamydia trachomatis por qPCR fueron 19 que corresponde al 10.7% y los resultados negativos 159 que corresponde al 89.3% de pacientes, el grupo de edad materna de los neonatos con resultados positivos para Chlamydia trachomatis por qPCR, más frecuente es el de 14 -19 años con 31.5%. Conclusiones: La conjuntivitis neonatal por Chlamydia trachomatis es una entidad de subdiagnósticada, que no responde al tratamiento con antibióticos tópicos habituales, donde  la amplificación de ácidos nucleicos por medio de la qPCR ha sido un importante avance en el diagnóstico, debido a que la amplificación es extremadamente sensible (capaz de detectar una sola copia genómica) y altamente específica, inclusive en pacientes asintomáticos.
Abstract
Introduction: The vertical transmission of Chlamydia trachomatis occurs in 60% -70% in the children of infected mothers and the risk of contracting Chlamydia trachomatis conjunctivitis in these affected neonates between 18% and 70%. Objective: to detect Chlamydia trachomatis by means of qPCR (Real Time Polymerase Chain Reaction) in the conjunctival sacs in newborns by normal delivery. Methods: A non-experimental, cross-sectional study was carried out, analyzing analyzed samples of 178 live-born children, at the Gyneco-obstetric Hospital Isidro Ayora, the presence of Chlamydia trachomatis in conjunctival sac samples was determined by means of the chain reaction of polymerase molecular biology laboratories of the Pontifical Catholic University of Ecuador. Results: the most frequent gestational age of the neonates is at term 75.29% corresponding to 124 patients, positive results for Chlamydia trachomatis by qPCR were 19 corresponding to 10.7% and negative results 159 corresponding to 89.3% of patients, the group of maternal age of neonates with positive results for Chlamydia trachomatis by qPCR, more frequent is that of 14-19 years with 31.5%. Conclusions: Chlamydia trachomatis neonatal conjunctivitis is an underdiagnosed entity, which does not respond to treatment with usual topical antibiotics, where nucleic acid amplification by means of qPCR has been an important advance in diagnosis, due to extremely sensitive amplification. (capable of detecting a single genomic copy) and highly specific, including in asymptomatic patients
Reporte de descargas
Aún no hay datos de descargas disponibles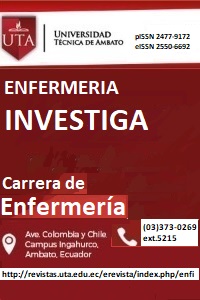 Como citar este artículo
FELICITA MENA, Ana Maritza; TORRES NOBOA, Nidian Judith; ACHIG GODOY, Mishell Cristina. DETECCIÓN DE CHLAMYDIA TRACHOMATIS POR PCR EN TIEMPO REAL, EN RECIÉN NACIDOS EN EL HOSPITAL ISIDRO AYORA, QUITO-ECUADOR..
Enfermería Investiga
, [S.l.], v. 5, n. 3, p. 46-52, jul. 2020. ISSN 2550-6692. Disponible en: <
https://revistas.uta.edu.ec/erevista/index.php/enfi/article/view/911
>. Fecha de acceso: 26 oct. 2020 doi:
http://dx.doi.org/10.31164/enf.inv.v5i3.911.2020
.
Sección
Artículo original